First of all, I'm quite happy that it seems like both
"Wedding Tayo, Wedding Hindi"
and
"Zombadings 1: Patayin sa Shokot si Remington"
are doing well in the box office. I watched both movies in cinemas packed with people and today (Wednesday), where new movies usually open here in the Philippines, both movies which opened last week are still showing on a lot of theaters nationwide. In Glorietta, the two movies are still shown separately (as oppose to sharing a screen which usually happens when there's a lot of new releases which is the case this week) and there's actually one more local movie out today (
"Thelma"
) at the same mall. So that makes three local movies playing at the same time on a high-end mall where local movies are not the priority most of the time. Excluding MMFF of course, it's really rare for two local movies to open on the same week because they could cannibalize each other's audience but "
Wedding Tayo"
and
'Zombadings"
both opened last week and while some people are pitting them against each other it's quite good to know that both are received well.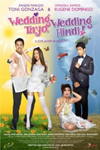 "Wedding Tayo, Wedding Hindi"
tells the story of two cousins who are on opposing sides of their relationship. Precy (Eugene Domingo) wants to annul her marriage after she discovers that her husband lost all their savings to a pyramiding scam while Maribel (Toni Gonzaga) returns from Japan to marry her longtime sweetheart. Maribel's wedding woes is pretty much your standard "wedding-preparation hijinks" but Gonzaga played the character quite well and delivered her wacky lines with ease and good comedic timing. Meanwhile, Precy's story about breaking up
legally
is quite interesting as it discusses annulment with a little educational context although the injection of humor for that part was hit and miss. Domingo's performance is good and she never fails to bring the laughs even with obvious jokes and all, although admittedly the performance is not remarkable compared with her previous roles. However, Gonzaga and Domingo have good chemistry together and the screen lights up whenever they have scenes together and exchanging lines. As expected, the movie goes to a predictable route although for a second I thought they will try to shake things up
*
but alas they backed away and settled for the usual ending. My one big complaint about this movie is the sloppy technical side (abrupt editing that cuts lines off and lighting shifts from bright to the dark on the same scene!) which for me is unforgivable since this movie is from the biggest movie outfit in the country. All in all,
"Wedding Tayo, Wedding Hindi"
is an enjoyable Pinoy popcorn flick. 7 / 10
*

[SPOILER ALERT] with Maribel calling off the wedding after Precy gives her marriage another shot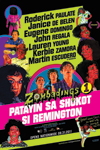 On the other hand, "
Zombadings 1: Patayin sa Shokot si Remington"
is about Remington (Mart Escudero) who was given a curse when he was a child by a gay man (Roderick Paulate) whom he mocked for being well, gay. Several years later, the curse is haunting Remington and he is slowly turning to someone he does not want to be. What's worse, being gay is quite dangerous in the town he lives in where there's a serial killer gunning down gays one by one.
I have to admit that I had high expectations of the movie because of the hype and strong reviews (particularly Click The City's critic Philbert Dy who gave this a rare
5-star review
) so I was underwhelmed after watching it. Don't get me wrong I liked this movie but it has story issues that dragged it down. It's really a fun movie which gives an absurd but somehow poignant look of how gays live in the Philippine setting. However, the movie tried to tell a lot of stories but they didn't have something that would connect all the dots. The third act featuring the zombadings was a hot mess. There were funny moments of course but that is where the movie lost it focus. I know 'Zombadings" is a catchy title and is probably one of the reasons why it garnered a lot of interest but truth be told the gay zombies are a nuisance. The way they were tacked into the story was so contrived it as if that they were just injected to simply justify the title. They disrupted the flow of the story and they're not even that much of the threat to what is at stake. The movie is campy with it's tongue-in-cheek humor but the movie still managed introduced imaginative ways to tell the story so it was really disappointing how hackneyed the third act was.
Mart Escudero's performance is what you truly call a breakout performance. The guy has been around in showbiz for awhile, changing channels here and there, but never truly ever making a mark but this movie will turn things around for him as he showcased impressive versatility. His performance is very convincing, he pulled off a flamboyant character without making it cartoonish. And his shift to being a straight man is flawless as well. Lauren Young should work on her Filipino speaking skills as she has the acting chops but she is clearly not comfortable speaking the language which is distracting to watch. However, Young was particularly great when she was talking to Remington on why he shouldn't simply accept his fate that easily. Roderick Paulate has been playing gay roles since time immemorial but he always hits it out of the park and Eugene Domingo's role is more of a glorified cameo but she makes her short scenes shine. The rest of the cast did okay save for Remington's buddies who were flat with their delivery of their lines.
I have to commend
"Zombadings 1: Patayin sa Shokot si Remington"
for its aggressive marketing campaign. It's really impressive especially coming from a new and independent movie outfit. They really promoted the hell out of this one and I'm glad it paid off as you can see the passion of the people behind this project. Despite my issues with the story,
Zombadings
is still one of the most entertaining and thought-provoking local movies to graced local screens in awhile. 8 / 10