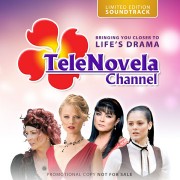 What I love about telenovelas in general are their theme songs! Even though I don't understand them, those tunes adds character to the TV show and engage me even more to watch it. A theme song highlights the texture and mood of a TV show and when it is sung and produced well it heightens the viewing experience. What I love about our soaps at
TeleNovela Channel i
s that the Filipino versions of the respective theme songs of each soap and I must say that the translated versions are as good as the originals! Anyway, you can now own the songs (and minus one versions as well if you want to have your own version!) FOR FREE at
TeleNovela Channel's websit
e, just click
here
to download the mp3 versions of the theme songs.
Here's the track list:
Init ng Pagmamahal (Passion OST) Jay Marquez and Faith Cuneta
Kahit Hiram na Sandali (Madrasta OST) Jasmine Abrenica
Ako Ba'y Aasa Pa (In The Name of Love OST) Faith Cuneta
Haplos sa Awit (The Two Sides of Ana OST) Daryl Ong
Init ng Pagmamahal (Passion OST) Carlo Orosa and Jasmine Abrenica
Init ng Pagmamahal (Minus One)
Kahit Hiram na Sandali (Minus One)
Ako Ba'y Aasa Pa (Minus One)
Haplos sa Awit (Minus One)
My personal favorite is Kahit Hiram na Sandali from Madrasta. It's a serious case of LSS! :)
***
TeleNovela Channel iss the first ever full-time soap opera channel in Asia that broadcasts 24 hours a day 7 days a week.
Description
The TeleNovela Channel is a new Full-time soap opera channel that features timeless love stories that are contemporary, loved and renowned by a worldwide audience. TeleNovela Channel offers different genres of telenovelas, selecting only the best soap opera series that includes well known stars from all of Latin America, Mexico and all over the world.

TeleNovela Channel will be the first ever all telenovela based programming in Asia that broadcasts 24 hours a day 7 days a week.

With a wide variety of top rating telenovelas around he globe, you will surely be at home watching TeleNovela Channel to your homes the drama of life 24/7 . TeleNovela channel is seen at Sky Cable channel 60, Dream Channel 58 and local cable operators nationwide. Like us on Facebook: https://www.facebook.com/TeleNovelaChannel, follow on Twitter @telenovelatv and visit the website http://telenovelachannel.com. Brought to you by Beginnings at Twenty Plus, Inc and TeleVisa.