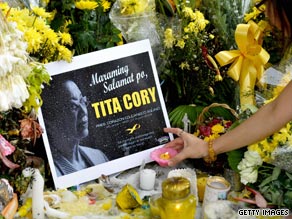 from CNN
Surreal. That is how I describe what I felt as former President Corazon Aquino was laid to rest today. It was the longest and most memorable memorial service I've ever witnessed in my life. Only a person like Cory could inspire people to go out to the streets again, this time not because of anger, but to pay respect to this honorable woman who left a long lasting legacy for the Filipino people.
We mourn for her death but we celebrated the life she lived. Thank you Cory. Thank you.

***

And also Bill Clinton successfully negotiated to give pardon to journalists Euna Lee and and Laura Ling who were both detained in North Korea because of "illegal entry". When I found out about the news I was horrified because there was a possibility that these two women would be punished in a labor camp. It was a journalist' s nightmare. I was really moved the moment the women step out of the airplane and saw their families. I'm so glad they are safe now.