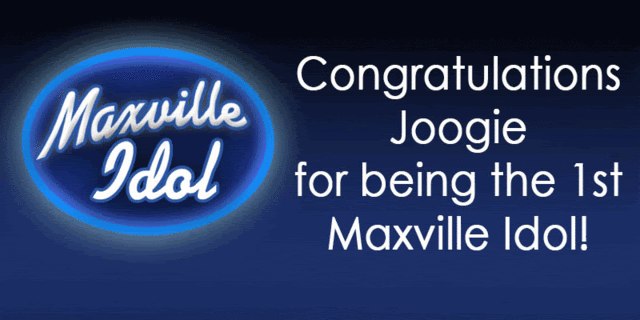 Graphics courtesy of
"Senator" Ed
Congratulations to fellow biter and man nurse Joel "Joogie" Gonzaga for winning the Kellybites' Nights Maxville Idol. He sang a guy version of the song "Don't Cha". His rendition is really good. Last night was the announcement of the winner on the show and DJ Kelly interviewed the top 2 finalists on air, 2nd place went to the very mysterious Caz who sang "Because of You", on the phone interview we found out that he is also working for a radio station as well. Third placer Jan Gironella also called up DJ Kelly tonight. As the official tabulator (naks!) let me share to you some facts, Jan was the most voted in the multiply. I received about 40 private messages on multiply voting for him and they are real people ah hehehe. Caz meanwhile got the most votes on the textline and phoneline. But why did Joogie won? He got high votes for both.
Here is the breakdown:
joogie
151 pts= multiply
159 pts= phone/text
TOTAL: 310 pts
caz
23 pts =multiply
241 pts=phone/text
TOTAL: 264 pts
jan
168 pts =multiply
40 pts=phone/text
TOTAL: 208 pts


CONGRATULATIONS JOOGIE!

BURGER! BURGER!
Tune in to Kellybites Nights
Mondays to Fridays
9pm-12 midnight
103.5 Max FM
Join the live multiply conference every night on http://kellybites.multiply.com/calendar

***

Congratulations to HERALDO FILIPINO! We reaped awards in the College Editors Guild of the Philippines competition held in Davao yesterday.
Palad
bagged 2nd place for best literary folio and the
HF newspaper
is also 2nd place in the Broadsheet category. Good job everyone!
Well I'll admit I'm a bit sad since we did not win for both categories and LS magazine not being awarded at all (I believe it was deserving but I'm bias since I'm the EIC hehe). And especially last year we won best broadsheet and for my term we are only 2nd place. I know 2nd place is not bad at all. But it kinda showed that somehow, maybe, the quality of HF may have dipped under my term. Here I go again, just forgive me about this insecure feeling.
But hey at least the broadsheet and the lit folio were still recognized!
Thank You CEGP and hats off to HF Team 22!
Good luck Team 23!
Go for the Gold!
=)