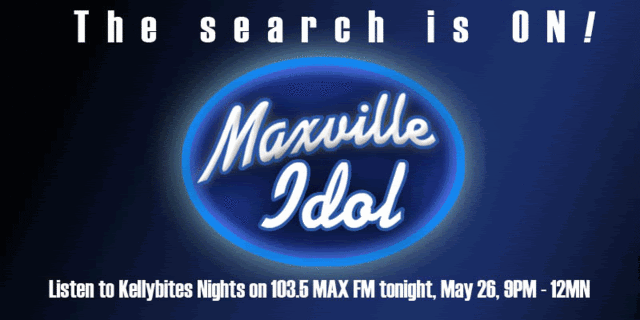 graphics courtesy of "senator"
Ed
This was the singing contest" last night on Kellybites Nights over at 103.5 Max FM. Well, it started as an accidental suggestion by biter
Niko
(biters is what we call ourselves, listeners of DJ Kelly's show) that turned into a event. At first it was all for fun then things got serious (well sort of haha) some of the contestants really campaigned for them to win. So how did the contest went? DJ Kelly asked aspirants to send a MP3 of them singing a song (1 minute) over the weekend, 11 submitted and became finalists. DJ Kelly uploaded the 11 entries
here
and multiply users could already vote, they could vote up to 3 people with corresponding points (top1-3 pts, top2-2pts and top3-1pt). This is where I became part of this event, I was chosen to be the official tabulator of votes, Saturday
pa lang
I already began receiving votes through PM and votes could also be posted on the
official multiply page
of Maxville Idol. And there were really a lot of votes, I was amazed by two contestants, they really have so many friends on multiply hahaha.
It was really fun on the actual show, DJ Kelly copy/pasted the text votes to me (we did the transactions through Multiply PM) she also updated me of the phone votes. It was really fun doing that. There were a lot text votes as in. 2968 may have crashed down. You could see the minute-by-minute coverage of the event by fellow biter Niko
here
and of course the
live multiply conference
we had where a record breaking 3,049 comments were posted on that multiply page (DJ Kelly should have a share on the income revenues of Multiply with the amazing hits her site is receiving).
So how was my experience as the official tabulator? Yes it was toxic as in
hindi ako magkandaugaga
jotting down the text/phone and checking out the multiply conference and my PM for votes. But I had so much fun, really. But I failed to cast my vote, I forgot to do so haha. The event was really exciting and I'm so proud I had a "pivotal role" there. Towards the end of the show, I was about to send the top 3 to DJ Kelly but my PC hanged, DJ Kelly have to kill time and extend the show while waiting for my PM. Embarassing!
Anyways, the announcement of the MAXVILLE IDOL will happen tonight as I type this entry.
I will just share how much points the contestants received:
1. 310 pts
2. 264 pts
3. 208 pts
4. 175 pts
5. 153 pts
6. 143 pts
7. 109 pts
8. 50 pts
9. 49 pts
10. 36 pts
11. 20 pts
I counted about 200 text/phone votes and 100 multiply votes. Toxic but so much fun, really.
Thank you to DJ Kelly and the Biters
***
Tune in to Kellybites Nights
Mondays to Fridays
9pm-12 midnight
103.5 Max FM
Join the live multiply conference every night on http://kellybites.multiply.com/calendar